Services›
Digital Product Development
Design and implementation of digital applications
Digitalization needs to be tangible and meaningful to make an impact. With innovative individual software applications, we help your business make the most of the digital future.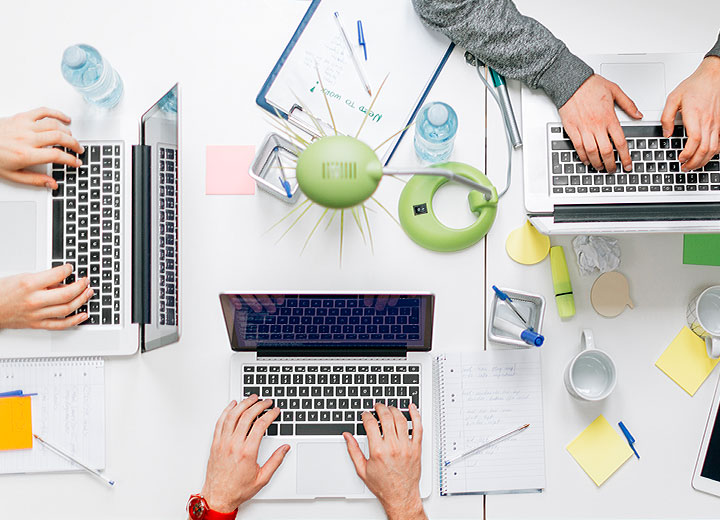 Our mission: Creating Digital Business & Agile Organizations
We develop digital products and services. With them, we make the digital transformation of our customers businesses successful. Agile methods and tools support us in our daily job –from product design to automated release and operations management. Our skilled innovation teams are using human- and value-centered approaches such as Design Thinking or Lean Startup and an agile tool chain that supports our DevOps processes for web and mobile applications.
Our reason: Creating impact for the users, not software output
Designing digital products and services that address unmet user needs
Creating intelligent digital user journeys that support users with their jobs to be done
Creating experiences, that users love
Using future-proof IT-infrastructure
"from buzzword to operational business" – making digitalization tangible
Our motivation: Change our user's world & making an impact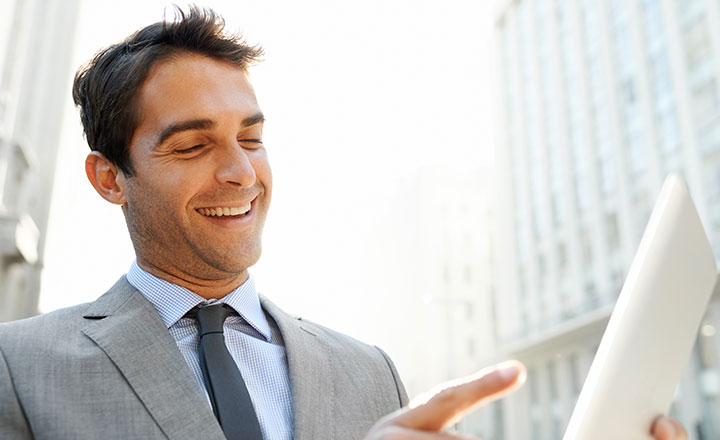 User-centered product design
Applying design thinking approach, prototyping rapidly and focusing on outstanding user experience allows us to cultivate ideas for innovative digital services and applications.
Read more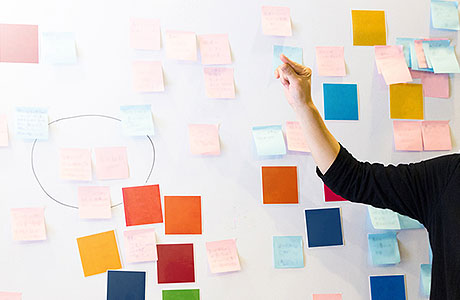 "You've got to start with the customer experience and work back towards the technology. Not the other way round" (Steve Jobs). We pursue this approach as we develop our new products. Our primary goal is to identify the actual user needs and to extract the right ideas and functionality by adopting design thinking mindset and its tools. It allows us to accelerate MVP prototyping and to test the ideas and processes with the user quickly. Continuous usability tests aim to improve the user experience, which substantially dominates the agenda throughout the design process. This method, also known as human-centered design, allows us to work with different departments across a wide industry spectrum by putting the emphasis on user experience and application features.
Services:
Workshops on agile methods with deployment of such innovation features as
qualitative Interviews
empathy maps
personas
user Journeys
user story mapping
Rapid prototyping
Positioning & value proposition
UX and UI Design
(Agile) requirements & project management
We convert product ideas into agile development projects. We engineer the requirements and manage them, prepare development sprints, conduct testing and validation. We also provide support for project leads and product owners in your enterprise.
Read more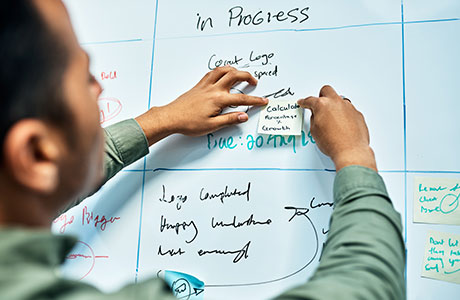 "What if we found ourselves building something that nobody wanted? In that case what did it matter if we did it on time and on budget?" (Eric Ries). The role of a product owner in agile teams is to specify the requirements, to update the backlogs, to manage the tools and to arrange the sprints, before the features are actually ready to be implemented. In-house product owners, however, tend to be deeply involved in extensive coordination with the stakeholder or exhausting project management activities. Our solution: think tank agile project managers with extensive experience in IT project management, capable of converting any ideas into precise requirements and managing the communication with the development team in any project. Our lean thinking approach allows us to prioritize the requirements and optimize the budget along with resources. As professional test managers we plan and execute the tests and supervise the application roll-out.
Services:
Requirements management
Stakeholder management
Product backlog maintenance
Tools management ( Jira, Confluence)
Backlog refinements (product owner, stakeholder, devteam)
Requirements priority management
MVP definition
User story description & definition of acceptance criteria
Product management/marketing
Test management
Test planning/execution
Digital application development
We develop innovative digital products based on cutting-edge web technologies. Our DevOps team is always at your service – be it conception and implementation of IT architecture or the operation of applications.
Read more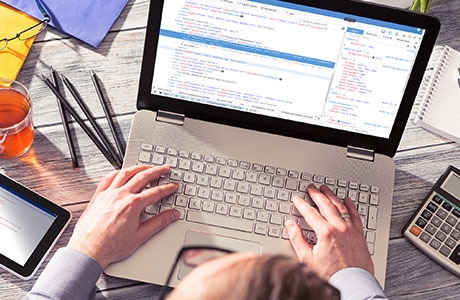 We have been dealing with constantly evolving web technologies for over 20 years now. We have helped countless enterprises to cultivate their first humble digitalization efforts to real success stories. think tank's mission is to implement innovative applications, efficient digital processes and user stories, as well as technology- based business models.
Services:
Technical conception
Architecture analysis and definition
Application integration / customization
Implementation of enterprise solutions (front/back-end)
Migration
Performance analysis and optimization
Web application security
DevOps
Nearshore agile development
Application management
We provide maintenance throughout the whole application life-cycle. Beside application development, that also includes permanent optimization and comprehensive user support.
Read more
Our DevOps team provides maintenance for self-developed applications or support you in application management of your existing software. At the same time we offer problem and incident management, change management and sustainable infrastructure for application operation.
Services:
Customer support
1st and 2nd level customer support
optional user workshops
Technical maintenance
analysis and troubleshooting
configuration customization
system environment updates
security patches and updates
performance optimization
data archiving and data cleanup
log file analysis
capacity management
Monitoring
implementation of automated infrastructure monitoring
performance and system availability monitoring
complete hardware components monitoring
Further development
implementation of new requirements in accordance with customer specification
change management
Continuous delivery and release management
automated build, integration, test and deployment processing
setup and implementation of relevant toolchains
Methods and tools: digital, agile, human.
Our mindset is the most important tool we have. It defines us and our performance. It´s who we are. It shapes the relationship with our customers and is deeply embodied in our solutions. Because we are open-minded, curious, empathic, attentive, inspired, creative, innovative, transparent, value-centered, optimistic, visual, digital, human-centered, demand-oriented, passionate, ambitious and always willing to learn.
Methods
Product design, agile work, DevOps
Read more
Tools
From pencil to DevOps chain
Read more
Technologies
Programming languages, frameworks, databases and more
Read more
Do you have any inquiries about digital product development?
Do not hesitate to call me at +49 89 552677-10 or leave me a message here. I'd be happy to get in touch with you.
Theresa Wilfer
Head of digital product development
E-Mail
You might also be interested in: