"What if we found ourselves building something that nobody wanted? In that case what did it matter if we did it on time and on budget?" Eric Ries, the founder of the lean start-up methodology, raises such questions for a good reason. There are countless excellent ideas worth elaborating, but how do we transform them into products that our users actually need? By applying design thinking and developing the prototypes, we can channel the innovation to improve the products and services that optimize the available resources and make the user experience inspiring.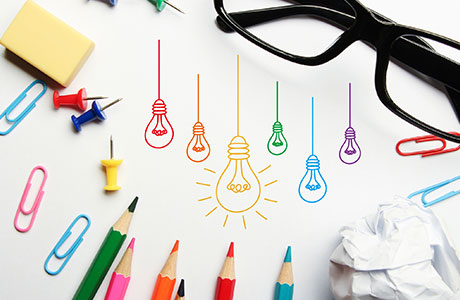 From problem space to solution space: methods and tools of design thinking.
Organizations tend to adopt a strictly corporate point of view, as they develop its' digital solutions. And though it perfectly makes sense in the technical dimension, it leaves the user experience and customers out of the equation. But how can you actually enhance the user experience? And how many undocumented workarounds are out there, helping the users to get their job done? Design thinking method represents a sophisticated assembly kit, which includes creative tools and techniques that were designed to deepen the comprehension of user's perception and to use this knowledge for innovative solutions. To deploy these agile methods efficiently, however, a certain mindset is to be adopted first. It's about being open-minded and empathic on the one hand, and staying unbiased and ready to discover on the other. The focal point in design thinking is the user. It explains why the problem space, so called "field", is being examined before the solution space. Therefore, qualitative interviews with the users are of crucial importance. It is worth noting, however, that it's not the user who defines what will be developed. This remains solely domain of the product designers, but they determine their objectives differently — by listening, observing and effectively generating know-how. The following Henry Ford quote nails it: "If I had asked people what they wanted, they would have said faster horses". To apprehend the problem space in detail, the following tools may be utilized: concept maps, qualitative interviews, user journeys, empathy maps, personas.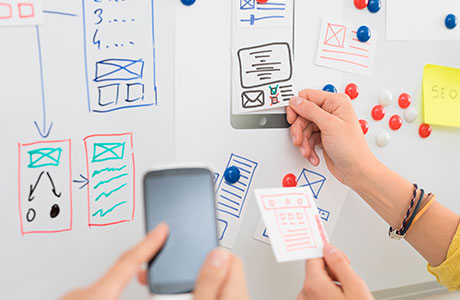 Prototyping und Usability Testing: you will be surprised!
Once the point of view was defined and the problem examined, one may use the designer's toolkit and its' techniques to prototype the actual ideas and product features. Whether with marker and paper or with professional tools – having fun creating prototypes is of high value. It generates more than just further ideas. It also provides a tangible, visual, and occasionally, even haptic foundation for the discussion with the user community and the stakeholders. Prototypes enables us to test the idea with the user immediately. Once the user interface was outlined, the usability tests can be conducted even before the implementation. It will certainly spare you quite a few adaptation cycles. And it will certainly deliver surprising results.
Daniela Panzenböck, Juni 2018