Digital Transformation of Enterprises
- our Expertise and Passion
Ongoing globalisation with its many changes poses major challenges for companies in an increasingly fast-changing, complex world. In order to be armed against crises and resilient to these upheavals, it is necessary to be able to react quickly to them. The transformation of a company's culture and structure towards agility is an ongoing process that must be supported by a digitalisation strategy that is shared by all.
However, a strategy can only work if it takes all factors into account. With our services, we therefore offer you a 360° view of all facets of digitalisation in order to work together on your path to digital transformation.
Business analysis: As IT and business consultants, we use our experience in the field of IT to analyse your business processes and thus work out digitalisation potentials to increase efficiency and your turnover.
In line with our sustainable and holistic approach, we develop innovative ideas and solutions for the adaptation of your processes at both business and IT level with you as a partner at eye level.
We implement new, innovative solutions with software solutions optimised for you and your company that take people's needs into account, because only systems that are adapted to the users bring visible progress in the long run.
Transformation Management
Transformation can only succeed if everyone involved is ready for it. To make this happen, we actively support you with our experts from the areas of agility, coaching and consulting to meet you and your employees where you are. We are at your side until you yourself can live and continue to live the change we have initiated.
Since digitalisation always puts important information and data at risk, we make sure that your information security and data protection concept works and support you from implementation to certification.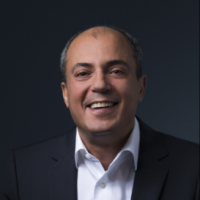 "We see ourselves as your companion in all areas of digital transformation."
Mohamed Chergui

Board member think tank Munich