"Our goal: To grow together with the bompany".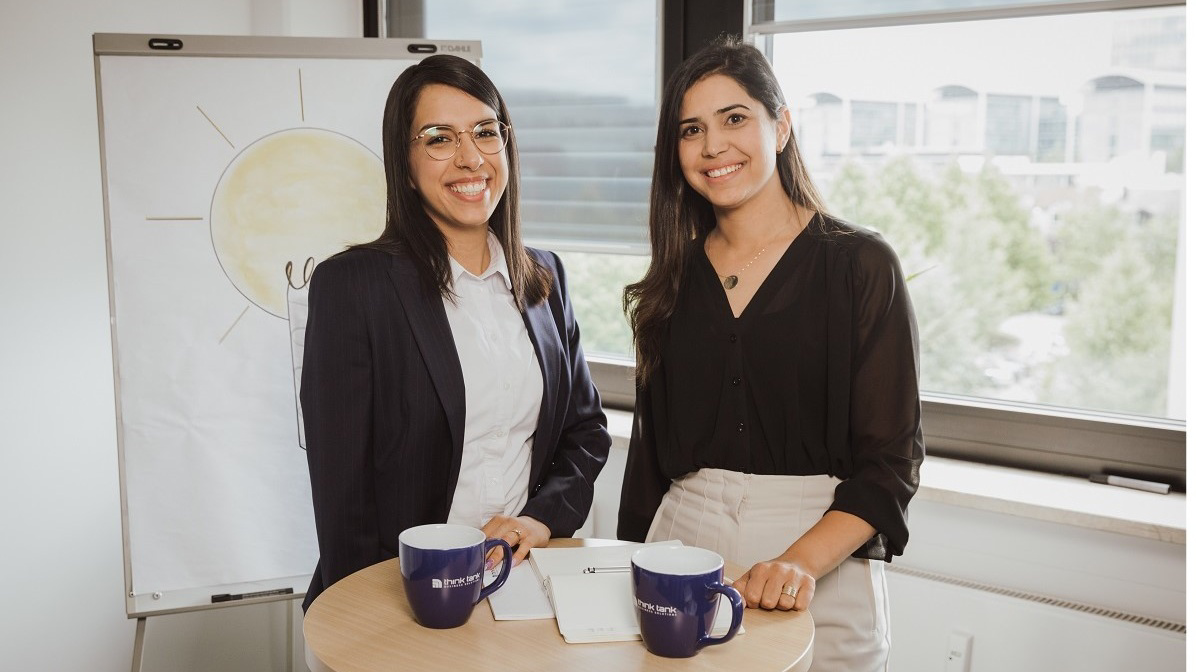 Jihen Koubaa and Sonali Parkash started their professional careers at think tank. In the fourth interview on the occasion of our 20th company anniversary, they talk about their career paths and their experiences of starting a career at tt.
Jihen Koubaa and Sonali Parkash on their career start at tt
think tank is the first "real" employer for both of you. What was it like starting out?
Jihen: I started as a working student in 2012 after studying business administration in Tunisia and attending an eight-month German course.  I started in the media editorial department of a client, but I always had a Master's degree in mind. However, the tasks at think tank were so varied and interesting that I decided to stay. I was able to try out different areas and activities in several projects with a wide range of colleagues, from software testing and project assistance to project management and IT consulting. For me, this is one of the important advantages of a medium-sized company like think tank: you can discover a lot, a special feature at tt is that you are not tied down and can develop further.
Sona: I started during the Corona period directly after my business informatics studies. At the beginning, I was able to enjoy a bit of office time. Since I had done an internship at BMW, I was able to get directly involved in a project. This allowed me to get to know different roles and perspectives right away and thus acquire or expand my broad professional knowledge. In the process, I also discovered completely new passions. During the Corona period, we all worked remotely, of course, but the team still got along very well. When we saw each other in person after more than a year, it was as if we had known each other forever. It was important for me to have a good mentor by my side who was always there for me personally and professionally. What I liked most about tt was that everything is very informal and the colleagues are understanding. Everything can be handled flexibly in coordination with the client, so I also quickly learned to work freely and independently. I was able to try out new things and was also allowed to implement my own ideas.
What is your development path like? How has think tank supported you and helped you along the way?
Sona: In the beginning, I mainly worked on projects. Now I have a clearly structured development path with annual interviews. However, this path is not fixed, it can also be adapted through short official channels if I justify the changes well and, of course, it they are in the interests of the company. Personally, I don't want to commit to one role, I want to remain broadly applicable, which is supported by tt. My primary goal is to continue my training as an agile coach, but I would like to remain operationally active. I am supported on my way by my team leader and my mentor. They are always available for questions, and when it comes to specialist topics, I can turn to the experts from the departments.
Jihen: There is always a tandem partner in the areas you work in that you can always ask. The hierarchies are flat and I have worked in various projects and thus acquired a broad range of expertise. I also always had the chance to further my education in training courses and thus take on more tasks. You always get support from the team leader or, earlier, from the division manager and, of course, from the HR department when it comes to further development. Personal preferences are taken into account.
What makes working at think tank special for you?
Jihen: We can express our opinions and they are taken seriously. We treat each other with respect.  The work-life balance is great, there is always understanding, which is very important for me as a mother with a small child. The possibility to work remotely and to arrange my work flexibly in consultation with clients and colleagues gives me a lot of freedom. I also like the fact that you can develop and implement your own ideas. But that requires a lot of initiative.
Sona: The management always accommodates me when it comes to implementing my preferences. The self-organised work gives me the freedom that is important to me. Many colleagues have become friends. That way I have fun at work and can master everything. We also transfer this to the clients. We form a team with the clients and tackle everything together. We take the client by the hand, if necessary, and accompany him from start to finish and don't leave him out in the cold at any point. It is important, however, that you are also proactive and that you think about and commit to your own development.
You already have experience through internships etc. with other employers. Are there any differences and if so which ones?
Jihen: I have only done internships. At think tank, I have gradually been given more responsibility in line with my individual development. What's important for me is that I got to know the working cultures in Tunisia and Germany. That way I can sometimes build a bridge and get more involved.
Sona: I got to know the difference between a corporation and a small, medium-sized company. The hierarchies are much flatter, of course. There are also fewer employees. That's why I don't feel like a small "cog". At think tank, I have had more responsibility from the start and my decisions have a greater impact than in a company. In return, I also have more influence and must and may actively participate.
What do you particularly like about your work, in terms of content and personally?
Jihen: I like the fact that I can control my work and make many decisions independently, sometimes I just work as a team member and sometimes I take over the project management for our projects. I also like the fact that I now work as a tandem partner or mentor for new colleagues, that I can pass on the knowledge I have gained and that I learn something new myself at the same time. I also experience a lot of appreciation at think tank; we all meet as equals. I appreciate a lot that we are constantly growing, which offers me new opportunities for further development.
Sona: I like that I have such different activities, that I work together in external and internal teams. The mix of operational and organisational / management topics excites me. My expertise is important and noticed and very much appreciated.
If you could wish for something, what would it be?
Jihen: I miss the on-site appointments. It would be nice if we could visit the client maybe once a quarter. It's different to feel the atmosphere at the customer's, it leads to new ideas and more exchange. And that we grow even more, so that I can also grow and take on other tasks.
Sona: I would like the fun to remain in the work. For me, a healthy mix of on-site and remote is important. And I also want to grow with the company.