Scaling frameworks Nexus, LeSS and SAFe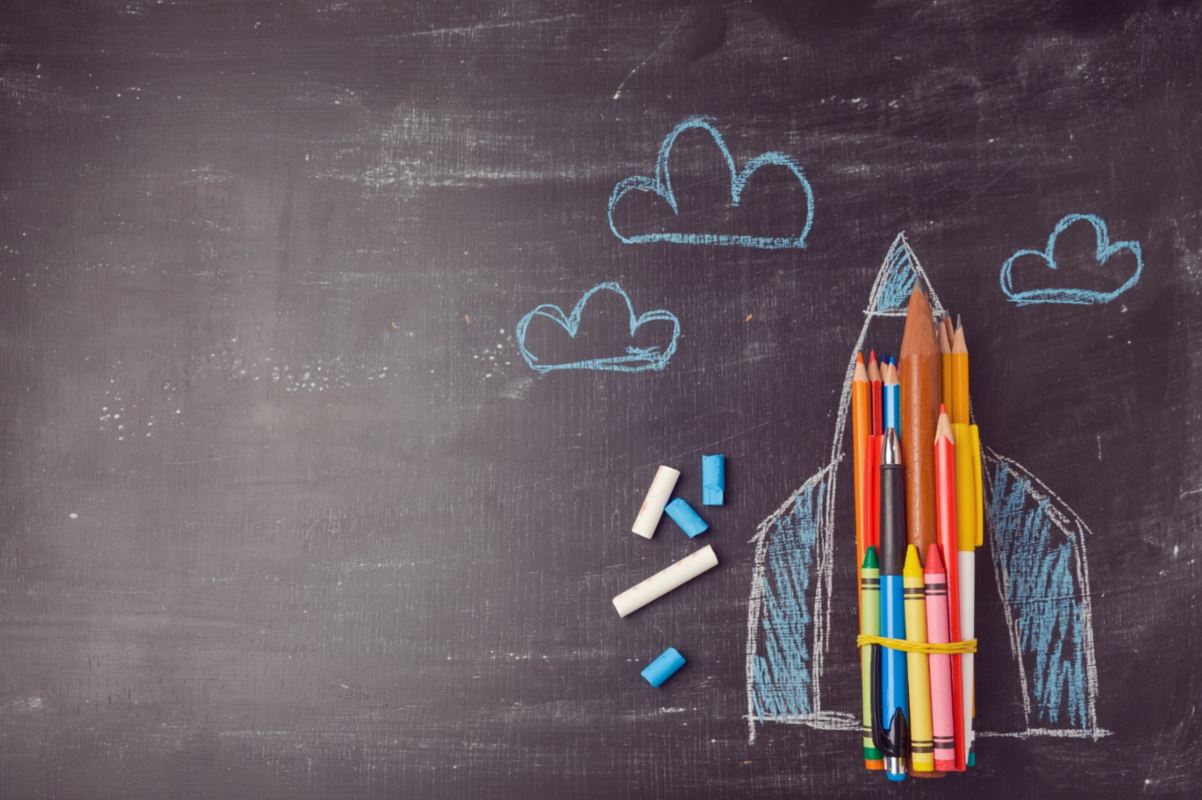 Megatrends such as digitalisation, globalisation and flexibilisation are rapidly changing our working world today.
Megatrends such as digitalisation, globalisation and flexibilisation are rapidly changing our working world today. The expectations and demands of customers are adapting to digital possibilities at ever shorter intervals. New demands are also constantly being placed on products. Teams can be scattered all over the world and still work together excellently. Everything is becoming faster, more interactive and more agile – accordingly, product development cycles are also becoming shorter and shorter.
One method that meets these requirements – today on everyone's lips – is Scrum. However! What do you do when the product is so large and comprehensive that many teams, different departments or even the whole organisation has to work together on it? The right scaling for efficient and satisfying collaboration provides orientation and support for the teams. But: how do you decide which scalable framework is best? Which framework can be used when the processes of Scrum for 3, 4, 5, … teams are too small? The search for the most optimal approach is a big challenge for many.
To give you a rough overview of the common scalable frameworks, I have summarised an overview that highlights the differences of each framework: Nexus (Framework for Scaling Scrum), LeSS (Large-Scaled Scrum) and SAFe (Scaled Agile Framework).
The father of the Nexus framework, Ken Schwaber, describes it as an exoskeleton that connects three to nine Scrum teams to develop a product. It is a process framework based on the agile manifesto and Scrum.
Nexus captivates through its simplicity. Scrum is scaled in its roles, events and artefacts. It focuses on cross-team dependencies and integration issues that arise when scaling across multiple teams and emphasises transparency.
LeSS aims to impress with its simplicity (more with less) and relies on clear principles. The teams under a product owner are responsible for the complete product development and bear a great responsibility, which also includes communication towards customers and the environment. If there are more than eight teams, the system is expanded to LeSS Huge in an additional scaling phase.
SAFe is economically oriented and has the continuous improvement of value streams in mind. With its hierarchical structure, it looks beyond the team to the programme, solution and portfolio levels as well as the overall embedding in the organisation. Roles, methods and artefacts are clearly described and support the introduction to scaled agile working.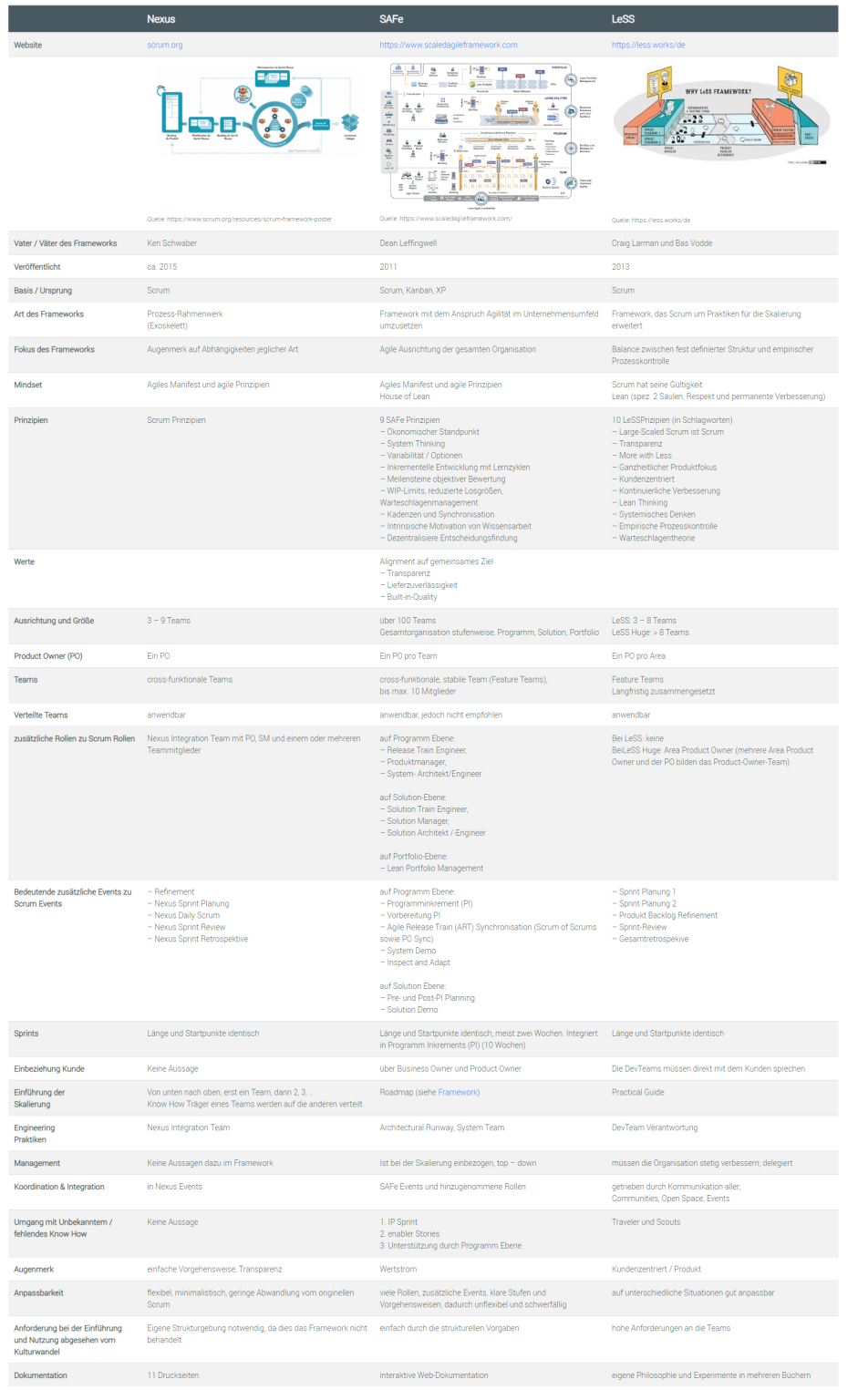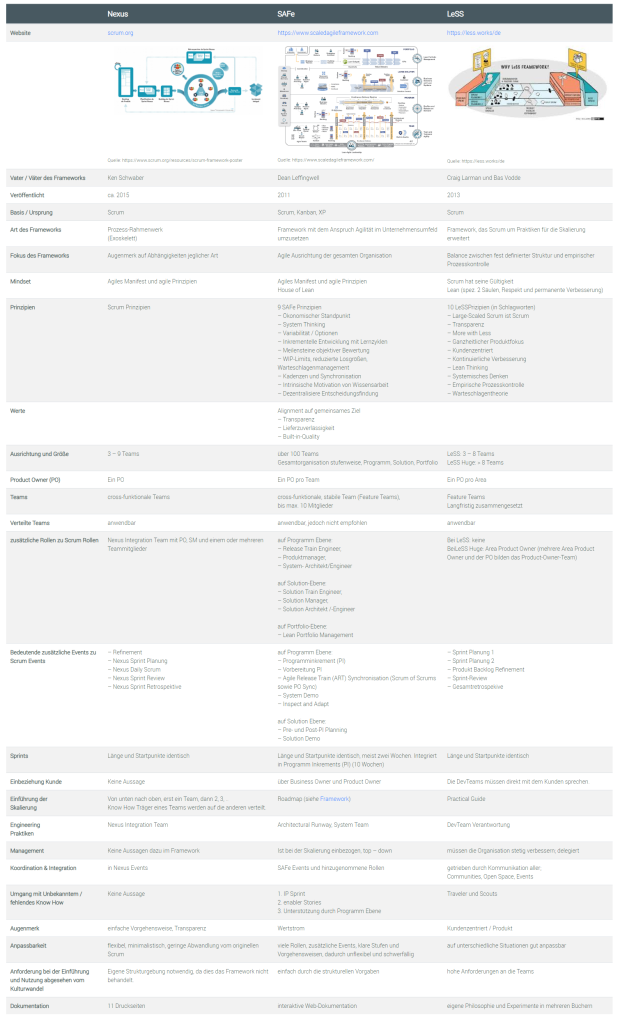 Agile scaling frameworks Nexus, LeSS and SAFe × This comparison is intended to provide you with an orientation to make it easier for you to take the first steps regarding the decision in which direction you want to go – Nexus, LeSS or SAFe. The advantages, disadvantages and limitations of these frameworks have deliberately not been discussed here.
However, before you can choose one of the scaling frameworks, you need to think carefully about which one fits your company culture and values. Check what your goal is, what do you want to achieve? What is the environment like and which agile methods are already used in your company?
My recommendation is to take the elements that best fit your organisation from the known frameworks and adapt an agile scaling framework.