Business Analysis for sustainable Change
for the Benefit of the Company, Employees and Customers.
We help you understand your business and communication processes. In this way, we identify needs and opportunities through which you can make your organisation more profitable, productive and efficient, and increase the satisfaction of your customers and employees.
This can be done at different levels, whether it is by improving a business process or your IT landscape, introducing a tool to facilitate documentation or implementing an app to improve your customers' customer journey. We only know where the journey is going after conducting a business analysis.
In an initial strategic analysis, we gain an understanding of your company and your data structure and determine the current state of your company in terms of digitalisation goals, IT infrastructure, degree of standardisation and the agility of processes and collaboration. Potential for improvement already becomes visible here.
Based on the results, we visualise the processes in which we have identified digitalisation potential for your company and illustrate where and how we can start to design and improve them to suit your goals. In doing so, we illuminate exactly which opportunities and risks result from this in order to obtain a comprehensive basis for innovative solutions.
Precise planning and dedicated monitoring of the entire process with iterative feedback loops guarantee that we do not lose sight of the direction of your digital journey. However, processes are only as good as they meet the needs of all stakeholders – be it employees or customers. That is why qualitative interviews with stakeholders are an important element of our approach.

Business analysis is about enabling change in an organisational context by defining needs and recommending solutions that add value to stakeholders.
International Institute of Business Analysis IIBA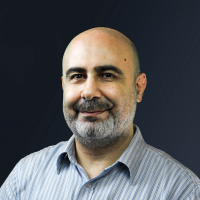 "We understand business processes and IT landscapes."
Mohamed Guermazi

CTO think tank Tunis