Process Reengineering for innovative Solutions,
that make your Company more resilient.
Being able to adapt quickly to change is becoming increasingly important in today's world of many disruptions and crises. We support you in increasing your resilience by adapting and optimising your business processes with innovative solutions. In doing so, we keep an overview of the big picture without getting lost in individual processes.
In the first step, we specify the solutions required for successful change with you using creative methods such as design thinking. Once the solutions have been defined, we draw up an initial roadmap for implementation, which we continually compare with the strategy through regular feedback loops.
Together with you and your employees, we develop a future vision with regard to leadership, systems and strategy for your company. Because the digital transformation can only succeed with a shared, clear vision of where the journey is heading.
We do not immediately implement solutions that are to be developed, but test them in advance using models to see whether the intended changes fit your company and to be able to adapt it at any time without spending a lot of money on implementation already in the planning stage.
Before we go with the implementation of the changes, we set up a strategy for your agile or digital transformation and a plan for implementing the solutions. In the process, we accompany you and your employees all the way so that the change succeeds.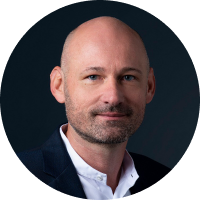 "In a vuca world, only resilient companies can endure."
André Jakubiak

Change und HR Manager