think tank enters into partnership with SWIAT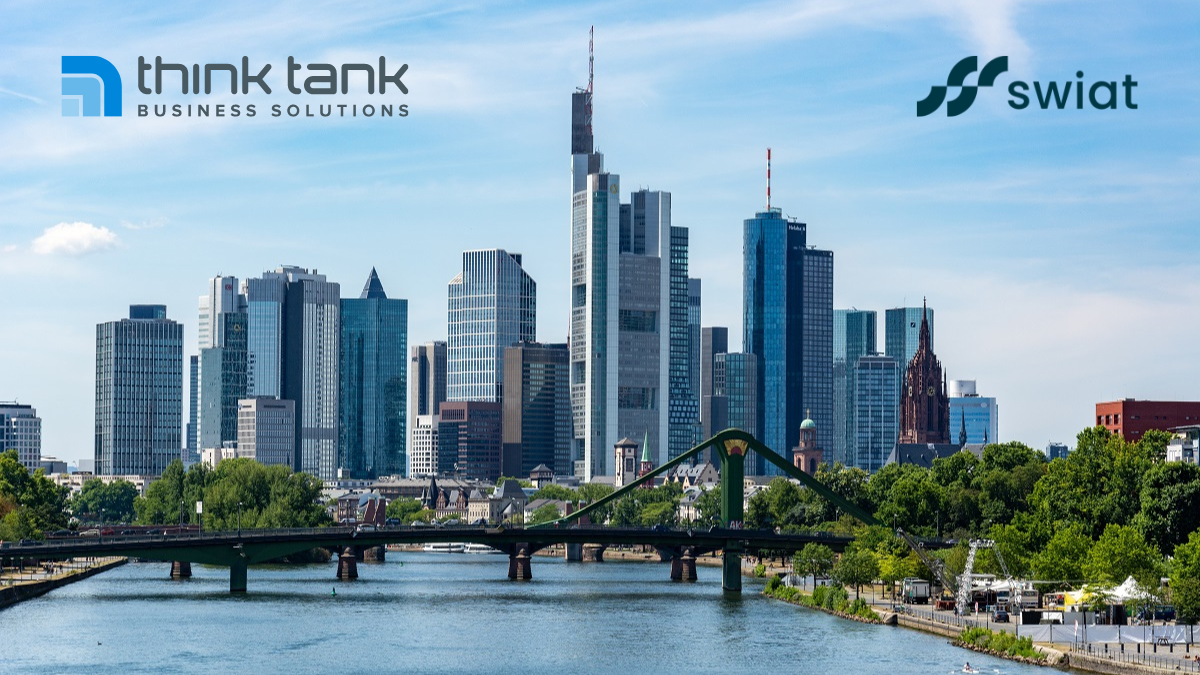 think tank enters into partnership with SWIAT
Munich, 14 September 2023. think tank Business Solutions AG, a pioneer in digital innovation, enters into a strategic partnership with SWIAT as a validator and becomes part of the SWIAT ecosystem. think tank expands its service portfolio with this cooperation in order to advise its clients in the area of blockchain technology and digital assets in the future more intensively.
SWIAT GmbH is a FinTech company specialising in the development of blockchain software for an open decentralised financial infrastructure. As a settlement network, the innovation and transaction platform is available to banks and financial institutions and enables them to issue and settle regulated digital assets. SWIAT's goal is to develop a uniform settlement standard in this area. As one of seven SWIAT blockchain nodes, think tank Business Solutions will act as a validator to ensure that incoming transactions are validated in the future, thereby increasing the security and reliability of the SWIAT ecosystem. To become part of the SWIAT network, think tank Business Solutions AG had to fulfil numerous compliance and MaRisk-relevant requirements.
With its extensive, long-standing expertise in digital innovation and finance, as well as in customised software solutions, think tank can contribute its know-how to drive the further development of the SWIAT platform and help shape the future of the digital asset market. In addition, close cooperation with think tank colleagues and partners on the African continent can create further synergies in the development of new sales markets for both partners.
Mohamed Chergui, CEO of think tank: "We are very pleased about the partnership with SWIAT. Being part of the SWIAT ecosystem is an exciting step for think tank as we look to further strengthen our position as a pioneer in digital innovation. We strongly believe that blockchain technology has the potential to revolutionise the way we design, manage and trade digital assets in the future. Moreover, we see a great opportunity here to offer our clients even greater added value on their digital transformation journey."
Dr Timo Reinschmidt, CCO of SWIAT: "SWIAT has set itself the goal of establishing an international settlement standard for the issuance of digital assets together with global financial institutions. With the partnership with think tank and the other validators, we have reached an important milestone and created a very good basis for the future development of SWIAT. Together in this network, we will now push ahead at full speed to acquire new clients and partners on the global financial markets, and we look forward to benefiting in particular from think tank's expertise on the African continent."
think tank aims to leverage the latest technologies in IT for the benefit of its clients. As the importance of digital assets and tokenisation will continue to grow in the coming years, the company is therefore increasing its focus on this area of technology and is continuously working on applications that will enable it to further drive its clients' digital transformation.
think tank Business Solutions AG is a medium-sized company based in Munich with branches in Tunisia and Switzerland. The company has been offering business and IT consulting as well as innovative individual software solutions for the automotive and manufacturing industries as well as the financial sector for decades. It supports its customers in digitising their business processes for better customer centricity. As an expert in digital transformation and innovative technologies, think tank Business Solutions AG also accompanies clients on their path of agile transformation. Another focus of its business activities is information security. In the coming years, the company will increasingly focus on distributed ledger technologies such as blockchain and the tokenisation and safekeeping of digital assets, as well as related application areas for its clients.
Your contact

Dorothee Schwarz
Marketing & Communication Manager
+49 (0)89 552677-0
dorothee.schwarz@thinktank.de