Creating added value for companies, employees and customers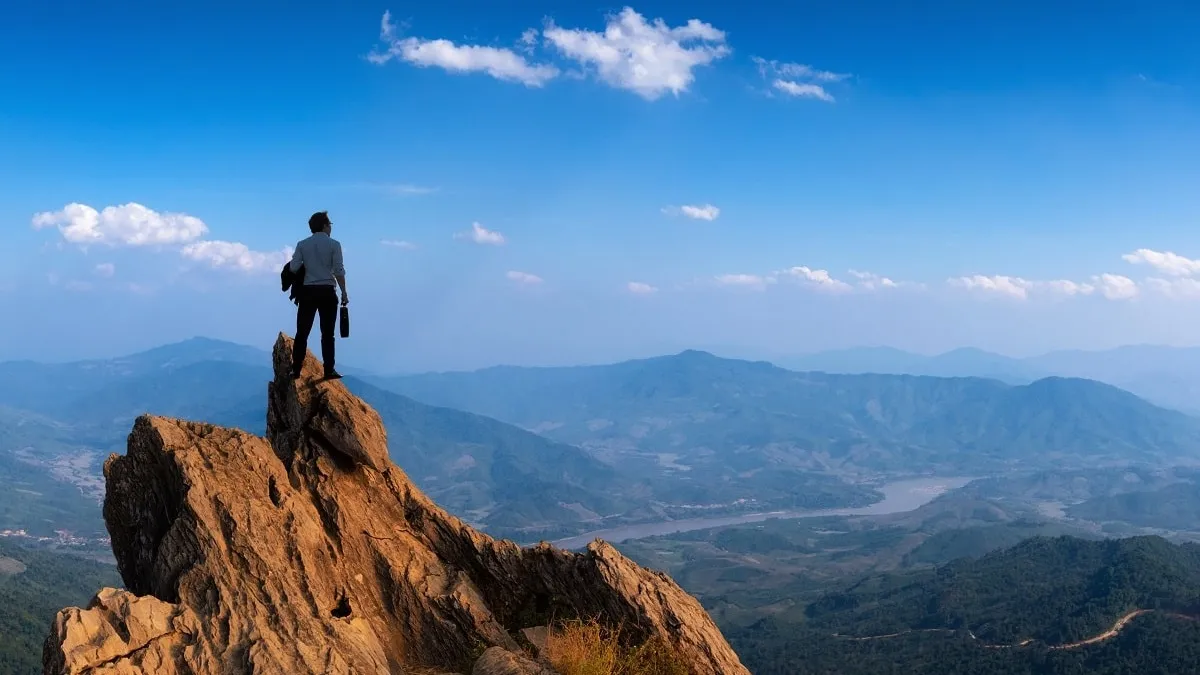 Agile transformation is not an end in itself. Its main purpose is to create added value for the company, its customers and its employees. A corporate vision can help drive and steer this change.
Think big: Why a vision is so important
Buzz words like digital or agile transformation are buzzing around in many heads. But why should companies deal with this and what does a shared vision have to do with this topic? The objective of both is to create added value for the company, the employees and the customers and to remain competitive in a world full of disruptions.
Advantages of a corporate vision
First, a brief clarification of terms: The vision describes a desirable state in the future to which employees can orient themselves. This so-called North Star shows where to a company would like to develop. At the same time, it serves as motivation and as a basis for decision-making for the entire organisation.
In its external presentation, the company distinguishes itself from its competitors through its vision of the future and can present how and for what it stands and works. However, it is crucial that the vision inspires and engages everyone. But how is it possible to develop such a rousing vision of the future for one's own company or to sharpen an existing one?
At the beginning, as with every process, there is an analysis of the current situation. In targeted interviews, employees at all levels have the opportunity to express their views. This approach offers the advantage that large parts of the staff are integrated and a more comprehensive picture of the company emerges.
In cross-hierarchical and -functional workshops, e.g. using the Walt Disney method, the six hats or the future workshop, the new image of the future can be developed together. The conscious use of creative methods opens up the space for new possibilities to leave the usual paths.
Because as Einstein already said:
"The definition of insanity is: doing the same thing over and over again and expecting different results. "
Vision and agile transformation
But what does a vision have to do with agile transformation? By comparing the current state with the vision, it becomes clear what the company can already achieve in terms of existing working models, processes and culture and where the gaps are.
It thus forms the basis for initial ideas to plan the necessary measures for the agile transformation. In addition, a common goal can help to ensure that staff and management accept and want to help shape the changes that every agile transformation brings with it.
Objective agile transformation
One of the primary goals of agile transformation is to make a company more resilient and competitive. This is achieved by simplifying processes and organisational structures in agile organisations, allowing the space for rapid decision-making within the framework of self-organisation.
This also requires a new form of leadership that promotes and demands a high degree of teamwork and self-organisation. What is needed here is not only situational leadership, but the strong leadership form of leadership in which the supervisor shadows, supports and coaches the team. This in turn leads to an increase in the level of innovation and employee engagement as well as responsiveness to changes in the market or in customer needs.
Of course, this contributes greatly to customer satisfaction and thus secures the future of the company. However, it is clear that such a far-reaching change as the agile transformation must be well planned and accompanied in order to empower both management and employees to shape it and drive it forward.
Image of the future as a positive driver
So a clear vision brings many benefits, both in general and in terms of agile transformation. The biggest one, however, is that the focus on a common goal that everyone wants to achieve together bundles a lot of positive energy and decisions are supported by everyone. In this way, every company takes an important step towards a future that enables long-term success.