Challenges in the digitalisation of administrative processes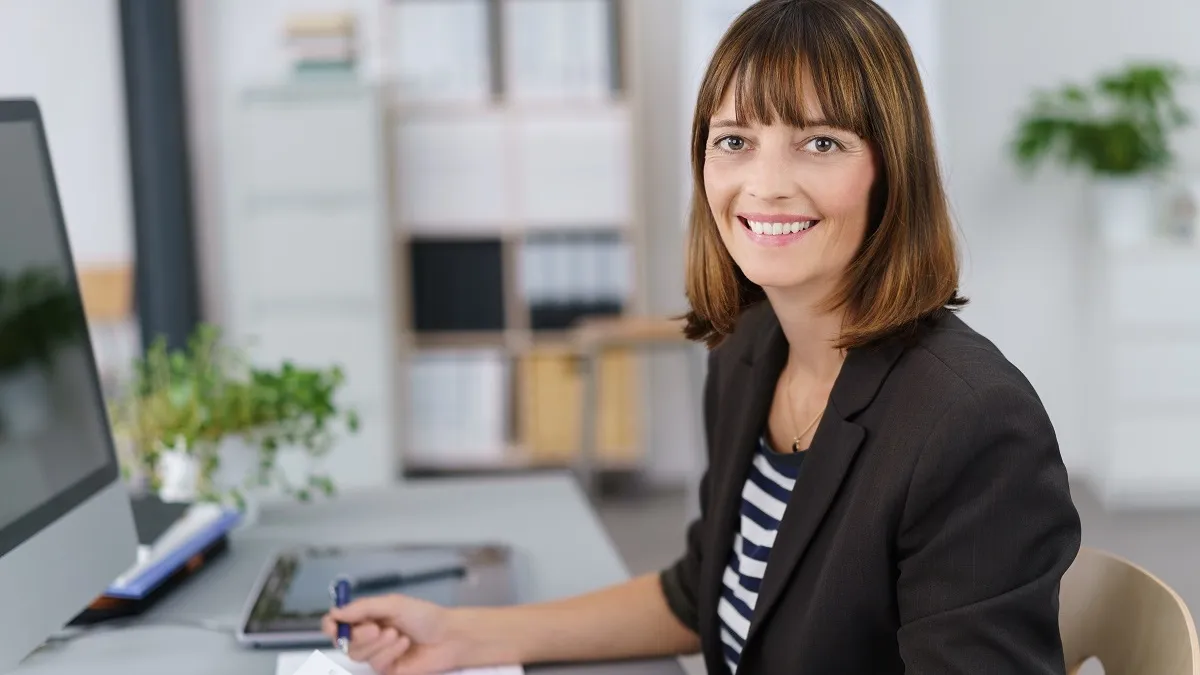 When it comes to the digitalisation of administrative processes, there are a number of hurdles that need to be considered in order for it to succeed. Such projects are particularly important in African countries.
E-government as a means to more economic growth
The digitalisation of administrative processes in the public sector received a boost during the Corona pandemic, but much remains to be done. Especially on the African continent, administrative hurdles and corruption are an important factor for the low economic growth in many countries. The digitalisation of administrative processes such as lending or publicly available online information on trustworthy companies are therefore often an important prerequisite for economic growth.
Involving administrative staff in development
More and more governments are therefore making efforts to digitise the public sector, partly with the help of the World Bank and other organisations. For this to succeed, some hurdles need to be considered. Since the ultimate goal is to improve service for citizens, it is necessary to involve both administrative staff and citizens in order to develop applications that convince everyone.
Especially with regard to the employees, it is important to convince them that the new solution will make their work easier and will not pose a threat to their jobs from the beginning. This means that they should already be involved in the requirements analysis. In order to identify their needs, it is often necessary to observe the existing processes on site in order to be able to map them digitally on the one hand and optimise them on the other.
In order to increase the acceptance of the new systems and to reduce possible resistance, it is important to think about a strategy in advance. Particularly intensive training after the system has been implemented, which focuses on the advantages for the users, can be an important factor in this.
Cooperation of systems between government entities
Other pitfalls for the digitalisation of administrative processes are the legal requirements for them. In order to be able to take them into account accordingly in a system, a precise analysis and knowledge of the laws is necessary. In addition, the areas that refer to laws must be easily adaptable in order to be able to update them quickly in case of changes.
Last but not least, either missing data or data distributed in monolithic systems pose a challenge. Making these easy to find through high-performance search functions, as well as migrating data so that all legal requirements continue to be met, requires a great deal of planning and understanding of administrative processes.
Another important success factor for the use of digital administrative systems is the exchange of data between systems of different government entities. On the one hand, this saves users from having to travel back and forth between authorities, and on the other hand, information is retrieved directly from its sources, which guarantees the accuracy, correctness and up-to-dateness of the data.
Technical and content know-how
All these are reasons why it is often difficult for governments to find the right partner for the implementation of their digitisation strategy, because companies rarely bring both the know-how for the development of such a complex system and the necessary knowledge regarding the specific requirements for the digitisation of administrative processes.
In conclusion, it can be said that experience is crucial in the implementation of e-government projects in order to avoid problems. Precise knowledge of the legal situation and the processes is also essential.
Agile transformation in the banking environment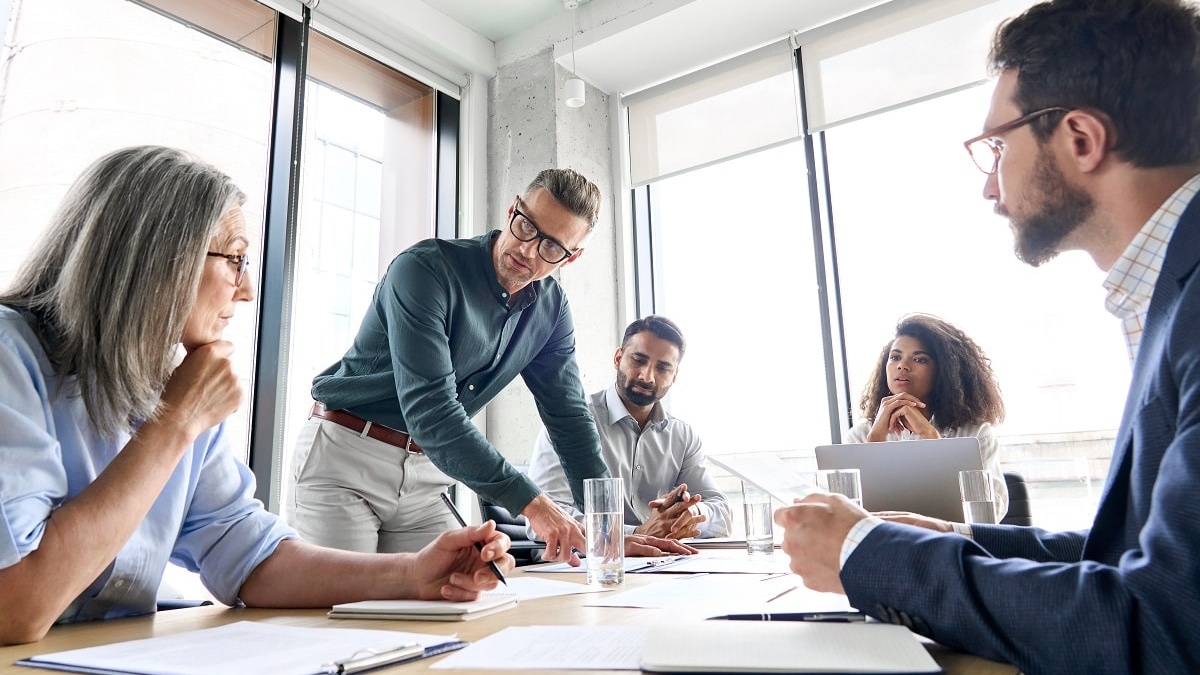 Agile transformation requires a high degree of willingness to change. Awakening this in all those involved is not easy, especially in the banking environment, and often requires external support.
Change is difficult for most people. However, the hurdles are often particularly high in very traditional companies and in the banking environment, even though the knowledge that a change towards digitalisation and agility is inevitable has become established in this sector. However, there are a number of things to consider when introducing agile working.
Stakeholder analysis and hands-on training
The most important thing is to identify and meet all stakeholders in a first step, for example in the form of a stakeholder analysis. In this way, they can be convinced of the necessity and feasibility despite the many regulations that exist in a banking environment. Because the agile transformation can only succeed if there is a willingness to change at all levels. This is especially true for the management level, where, as in many industries, a classic understanding of leadership still prevails.
For external consultants who accompany this change, it is therefore particularly important to create a basis of trust. This can be achieved through successful communication on the part of the consultants as well as practical training, in which not only the know-how but also the practical approach is conveyed and its advantages made clear. Intensive training in advance also results in a better understanding of agile work from the outset. Ultimately, however, it is the constantly improving results that provide the best arguments.
Coaching and team building support agile transformation
An important tool for supporting the agile transformation, especially in banks, is coaching, in which old thought patterns can be softened in order to increase acceptance for innovations. This is particularly important because prior knowledge on the topic of agility can vary greatly and individual employees therefore have different attitudes to it. Through group or individual coaching, consultants can also bring employees to a common level.
Since new teams are often created during agile working, team building measures are essential from the beginning to strengthen trust among each other on the one hand and to work together on the new working model on the other. Because agile working works differently in every company and should and must be shaped by the employees. This also means that solutions are developed by consultants together with the employees and the management.
Support from external experts in new roles
If management is involved in the process and also in the training sessions from the very beginning, the risk of a blocking attitude from this direction can be successfully prevented or at least minimised. Conflicts within the team or with the management can be recognised more quickly and can also be solved better.
In addition to good preparation of the team and management, it makes sense to bring in experience in the form of external support, for example as a Scrum Master, in order to introduce the necessary processes and empower the employees to shape the change themselves. Because every change needs time and support. What this looks like varies from case to case, of course.
In conclusion, it can be said that agile transformation can make a lot of sense in the banking environment, especially in IT applications. The prerequisite for this is that the special circumstances in the banking environment are taken into account and that the introduction of new working models and processes is prepared and accompanied accordingly.
Complexity needs new solutions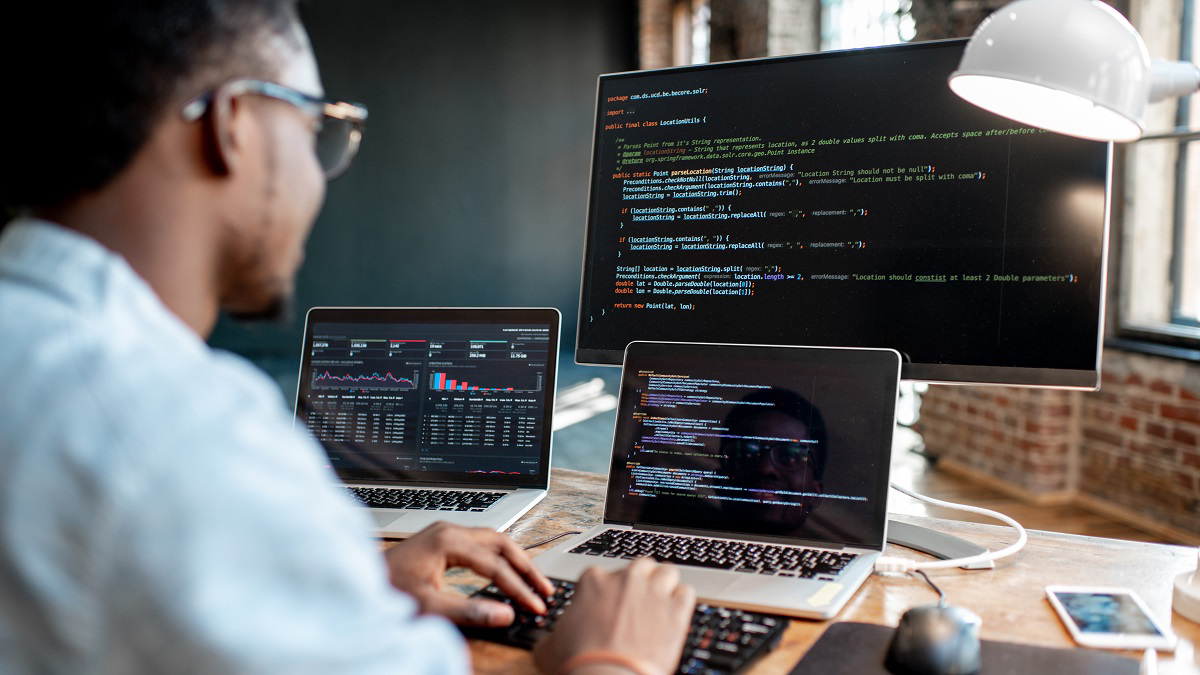 Custom software offers some advantages over already existing solutions. But what actually speaks for an individual solution, what against? And can the disadvantages perhaps be viewed from a different angle?
Comparison Individual Software vs. Standard Software
Advantages of customised software: tailor-made solutions
Advantages for individual software can be found quickly: If, for example, a company decides to have a software solution developed, it adapts optimally to its own needs. Business processes remain unaffected by it because it takes them into account right from the start and can even help to improve them – just think of digitalisation. Moreover, it can be seamlessly integrated into existing systems and structures or, again, help to make them more transparent and faster, for example when monolithic structures are merged into one system.
If, despite all the forward-looking planning, adjustments and extensions are necessary if something changes in the size of the company or its range of services, these are possible at any time because there is direct contact with the manufacturer. This also becomes important when companies have to react quickly to changes in the market, which is becoming more and more important in times of rapid change and many global crises, such as the Corona pandemic or the Ukraine war. Last but not least, the look and functions can also be tailored exactly to the company's wishes.
Disadvantages of individual software reassessed
But what about the disadvantages? At first glance, implementing new software seems like a lengthy process that many would like to bypass. But anyone who has dealt with and experienced the introduction and implementation of standard software knows how many snags there can be before the product achieves the desired result. Because "bought quickly" does not mean that the solution will also run quickly and the seemingly cheaper standard product will quickly become a permanent construction site.
IIf one is also a smaller customer, the interest in successful support is often not very great, whereas the developers of one's own solution are available for problems and enquiries in one's own interest alone. Moreover, a standard programme often does not cover all areas of a company, so that one has to deal with a wide variety of providers and maintain different systems, whereas with an individual software solution everything is in one hand.
Cost savings through precise planning and nearshoring
In fact, it is possible for the costs of custom software development to exceed the planned budget.  However, a precise needs analysis and planning as well as strict budget monitoring can avoid a cost explosion from the very beginning. Further savings can be made by using a partner who has outsourced his software development to a nearshoring region. In addition, the balance sheet quickly looks different when comparing customised software with standard products, taking into account maintenance, software updates, licences, etc., which are often incurred with the latter.
Close cooperation with a company that specialises in the development of complex software solutions therefore also prevents misunderstandings about what the finished product must be able to do and achieve. This is also helped by the agile way software companies work, where developers can react quickly to changing requirements.
Conclusion: Individual software is the solution of choice in complex environments
In some cases it can certainly make sense to choose standard software. The question of the complexity of one's own structures and processes, based on the Cynefin framework, helps with the decision. Especially in times of digitalisation, the challenges are rarely simple, so that the approach of a best-practice solution no longer applies. Because in a complex Vuca world, what counts are procedures and structures that can be adapted easily and quickly. A solution tailored to the needs of the customer, which has already dealt with the special challenges of the company during development, is far more helpful than one developed for standard cases. This is true even if experience from many industries has gone into it, as nothing is as unique as a company's structure and culture.
Nearshoring in Tunisia: Is it possible?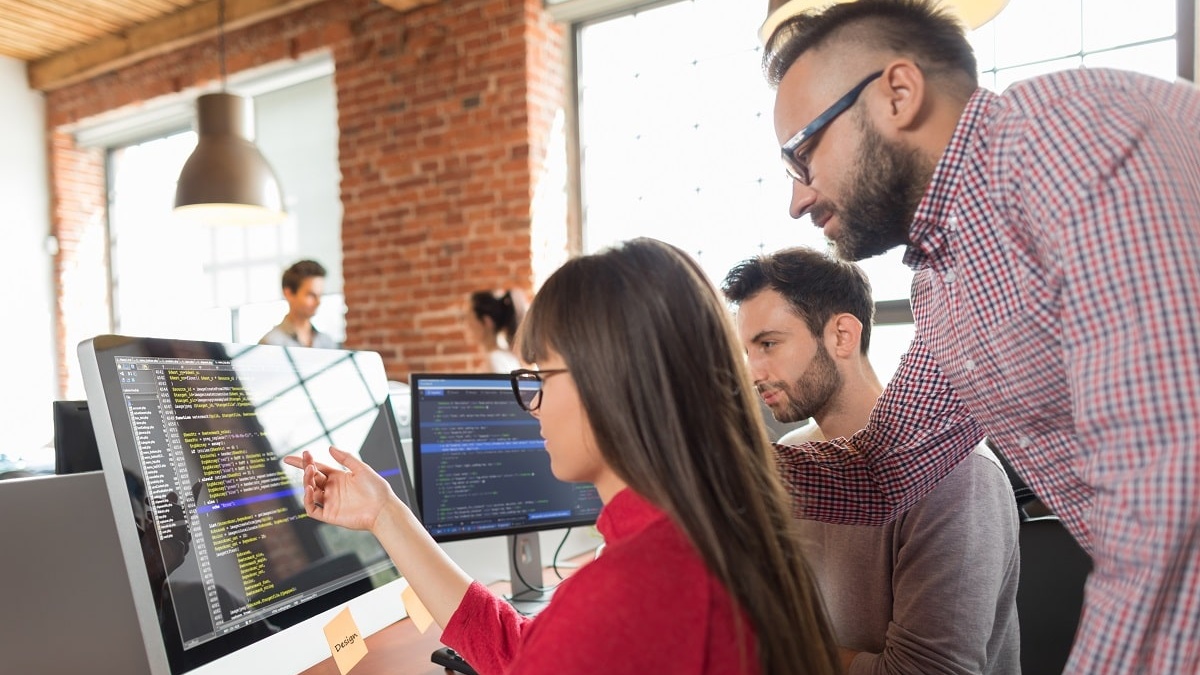 Six reservations reassessed
A lack of skilled IT staff and lower costs are only two of the reasons why many companies outsource their software development to a nearshoring partner. The choice often falls on Ukraine or Poland. There are still reservations about countries like Tunisia. Are these justified?
Many companies in Europe are now using nearshoring partners to outsource their software development or entire business processes due to the lack of skilled IT staff and high labour costs. The classic choice is Poland, Bulgaria or Ukraine. But locations such as Tunisia are also becoming increasingly important in this context. However, there are still reservations about non-European partners, which can easily be refuted, because nearshoring in Tunisia also offers many advantages.
Quality training and geographical proximity
Quality: In Tunisia, higher education is of high quality and absolutely comparable with Western European countries. 240,000 students graduate from higher education each year, of which 20,000 are engineers and scientists and 9,000 are information and communication technology graduates. Tunisia has more than 50 engineering schools that teach computer science, among other subjects. This guarantees high quality in the implementation of software projects.
Distance: Even though Tunisia is located on another continent, the time difference is a maximum of one hour in summer and a flight takes only a little more than two hours. Thus, in contrast to offshoring in countries like India, it is guaranteed that contact persons are available during European business hours to make arrangements or solve problems.
Multilingualism and stable infrastructure
Communication: Large parts of the Tunisian population speak fluent French, English is taught at school from grade 4 and there are certified as well as professional language institutions for the German language. In the technical professions, French and English can be assumed, and German and Italian are often added. The local distance can be bridged without problems thanks to digital means of communication, which have developed even further during the Corona pandemic. The good telecommunications infrastructure, in which Tunisia is a leader in the southern Mediterranean, also contributes to this.
Mentality: Without question, there are differences between the German and Tunisian mentality. However, companies like think tank Business Solutions now have decades of experience in implementing numerous projects with European partners. A German bridgehead consisting of product owners and IT consultants additionally guarantees that the cooperation with the customers runs smoothly.
Hands-on mentality and cost savings
Management: Managing a project is always challenging, especially when a hybrid, multinational team has to be managed. To ensure the smooth running of a project, an agile working model is a good choice, which has also become popular in Tunisia, especially in the development and implementation of software in companies like think tank. By having German colleagues manage the projects, it is ensured that the customer's requirements are always in focus. The developers in Tunisia also have a "get the job done" mentality just like their colleagues in other countries and act in a goal-oriented manner.
Costs: Tunisia is also a very good alternative in terms of costs. The hourly rates for a Tunisian employee are attractive and competitive. Despite the good quality of the labour market, the average wage costs for a full-time employee, for example, are very low compared to Eastern European countries, making Tunis an attractive North African location for business process outsourcing. It should not be forgotten that with Tunisia we are in a politically stable area, whereas in the Eastern European area there have been tensions and uncertainties in recent times.
Overall, it can be said that Tunisia as a nearshoring partner is a good alternative to the classic Eastern European countries. In combination with a German bridgehead, which can act as a translator not only of culture but also of mentality if necessary, one is relying on the best of both worlds: Availability of skilled labour, cost savings and German know-how and quality.
Testing in Software Development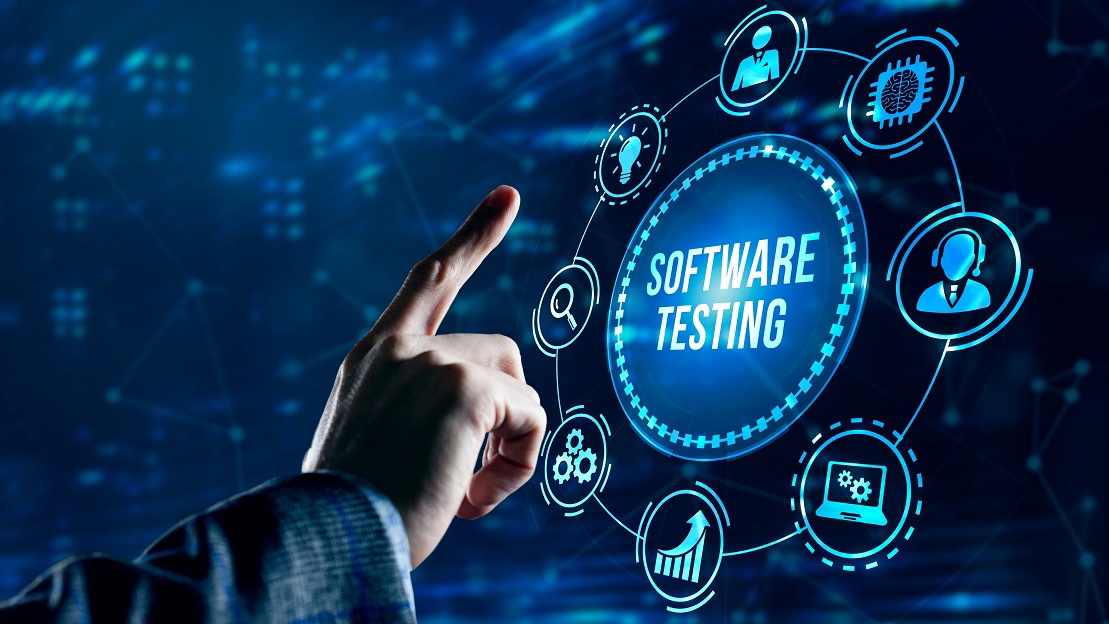 Saving money on tests in software development is not a good idea. It often leads to delays and loss of image. Common arguments against this can be quickly refuted.
Mistakes and how to avoid them
Frequent arguments against extensive testing in software development are often that this is not necessary because a lot of value is placed on qualitative work in one's own company. This would make it possible to save money on software tests. On closer inspection, however, it quickly becomes clear that both of these points can be refuted very quickly.
Consequences: Missing features and dissatisfied end-users
Because in the communication between the customer and the developer, misunderstandings can arise in the various steps, so that in the end the released application is missing features or cannot do what it should. In addition, the human factor cannot be neglected, i.e. people always make mistakes in their best work. Moreover, changes in an existing system can lead to malfunctions elsewhere, which only appear when an end user complains about them.
And this brings us to one of the consequences of companies trying to save on testing. Errors can lead to customer dissatisfaction and thus to a loss of image. In addition, bugs that occur after the release have to be fixed as quickly as possible. The developers are tied up during this time and cannot continue working on the development of new features, so that the further development of the project is delayed and thus costs money that should have been saved by testing.
Do's: Timely start and dedicated roles
All this makes it clear that testing is a necessary corrective in every software development. But what should you pay attention to in software testing and what should you avoid? It is important to create the test cases in good time, i.e. already when the user stories are created. In the best case, an independent test team is responsible for this, which is not too closely involved in the development, in order to exclude a certain operational blindness. The same applies to test execution. It is best if no one tests their own test cases, but always those created by someone else. In addition, this avoids a bottleneck being created by the product owner who has to approve the release and thus approve all test cases, which can lead to delays.
It is essential to ensure that the test cases are well developed. This means that the test cases are created on the basis of the user stories and, at best, all the steps listed there are covered. Testing should also begin immediately after the developer has implemented the user story in order to be able to meet the release date. Each test should also include a test report, in which exactly what worked and what did not work is recorded, in order to keep an overview of the errors in a development sprint. Automation of test cases for standard use cases, e.g. "I can download a text" or for errors that occur again and again, can be a great help.
Plan 20% of the project volume for software testing
Of course, testing should not be rampant; a test coverage of 95% negates all cost savings, as such a rate can only be achieved through intensive testing. 20% of the project volume is a good guideline to follow when introducing a testing procedure. However, it is pointless to try to save money by testing less, as this is not worthwhile due to the possible loss of image, the resources tied up in development for bug fixing and the associated time-delayed release of a downstream application.
Success through quality, budget control and time management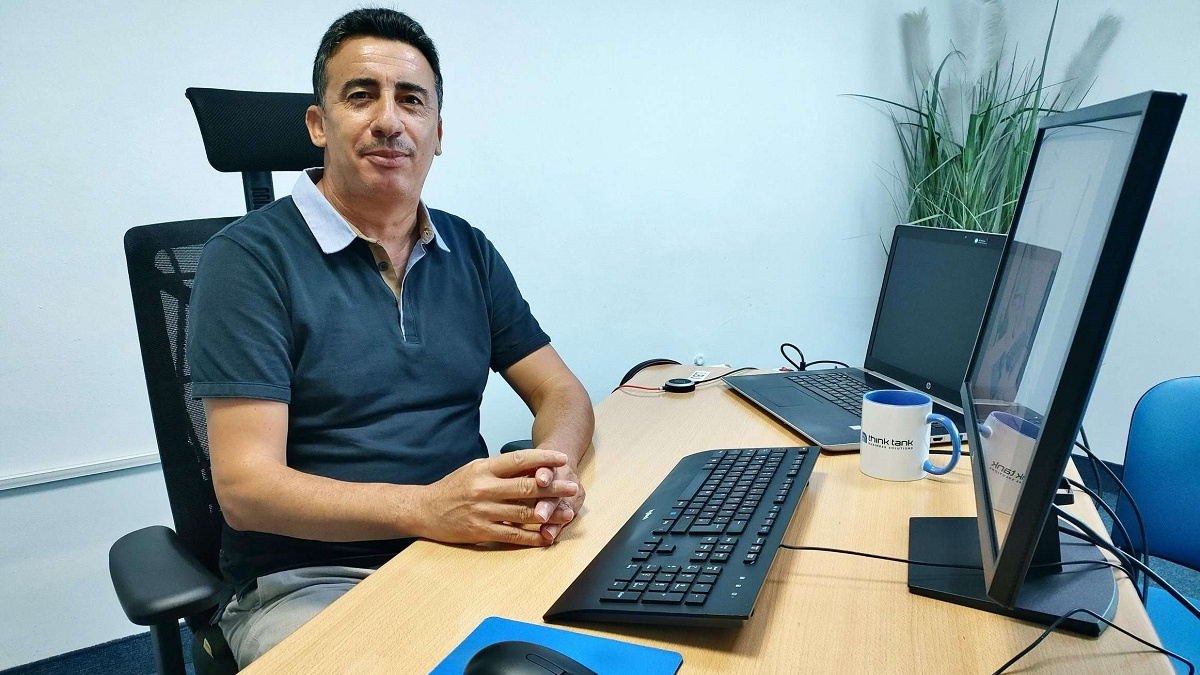 In the interview series for our 20th anniversary, Lassaad Ben Jamaa talks about the cooperation with Munich and the success factors for think tank.
Communication decisive criterion
How did the idea of founding think tank Tunis (TTT) come about?
We, Lassaad, Mohamed, Hammouda and Yassine, already thought during our studies in Germany that we would like to give something back to our country, since Tunisia made it possible for us to study in Germany through a scholarship. We also wanted to stay up to date technologically. We also saw how much potential there is in our home country. The education is very good, there are many good graduates and engineers looking for work. That's why the think tank was founded in Tunisia in 1998. We wanted to transfer the German model here, the discipline, the way of communicating, and since we also wanted to do projects in Germany, we then opened a location in Germany in 2002, which has since become the headquarters and bridgehead to Europe.
You work closely with the Munich office. How does the cooperation work?
We know each other very well, we have also worked together in Germany, so we had a personal level. In principle, it was just a continuation of the cooperation with a different local distribution. What was and is important to us is the mutual respect that characterises our cooperation. In addition, we implemented the same working model at both locations, because of course there are differences in mentality. Germany pays a lot of attention to processes, everyone has their defined tasks. We have adopted this here in Tunis in order to be able to deliver the proverbial German quality. Overall, we see ourselves as a German company with three important values: quality assurance as well as precise time management and strict adherence to the budget.
Decisive for a successful cooperation is, of course, communication and exchange among each other. In the past, we used to communicate a lot on a personal level; there were weekly meetings and frequent trips to Germany. I was present on site at least three to four times a year. In addition, there were and are regular coordination meetings at all levels, be it with the management or the sales team. We are also in constant exchange at the project level. For the daily exchange, we have our dailies to receive all information in time and to guarantee transparency. With time and the development of new technical possibilities, we conduct most meetings online. But still today there are regular visits of staff from Tunis to Germany and vice versa, as the personal level is simply hard to replace in the long run.
How has TTT developed since its founding?
In 1998 we started with one developer, then there were two. The number of employees has grown steadily. At first, we only hired developers. With the expansion of our range of services, it also became necessary to hire specialised staff, starting with product owners, scrum masters, DevOps developers and ending with sales and HR staff.
What do you see as the most important reasons for the successful growth?
The most important is, of course, quality. Then there is our flexibility and availability. We are able to react very quickly to our customers' requirements. In addition, we have meanwhile built up a great deal of expertise in many areas such as e-government processes or also finance as well as automotive, so that we are not only an IT service provider, but can also contribute our specialist know-how. This allows us to offer everything from a single source, which is often very important, especially in the public sector. In addition, we have proven to be a very reliable partner.
What are TTT's greatest successes?
I am very proud of the well-known clients we have been serving very successfully for years. We are also proud of the fact that we have already won several tenders from African governments, such as the project in Madagascar, which makes it easier for investors to obtain loans. Our reputation is now so good that the Tunisian Trade Registry approached us after the new bidder, who actually won the tender, failed to implement it. We were then still able to complete the project successfully. Our office building, from which our logo is visible from afar as a trademark, is also very important to me as a visible sign of our growth and success.
What are the focal points of your work?
We want to focus on three levels. First, it is important for us to strengthen ourselves internally, to further consolidate structures so that cooperation continues to be successful. To this end, we want to optimise and adapt our processes even more so that we can continue to implement projects on time, with high quality and within budget in accordance with our goals. Our growth also makes it necessary for us to strengthen ourselves in terms of sales in order to build up an even larger sales pipeline. The third factor is that we always want to use the latest technologies, so we are constantly looking at and adapting our portfolio to meet the needs of our customers.
What do you value in your employees? What do you offer in return?
Of course, quality training is very important to us, but it should also be a human fit, they should live our values and be committed. People who are not ambitious will not get anywhere with us. Our employees should love their job, have fun and be passionate about their work and not just see it as a salary provider. In return, we offer a salary in line with the market and try to design the premises so that everyone enjoys coming and can work comfortably. We also offer quiet corners and other relaxation facilities. We try to do more than the standard in terms of team events and training. Our staff register their needs for these and we try to facilitate them when it fits our strategy. For example, there were English classes, as this is extremely important for communication with the Munich location. In principle, you can say that we always try to see the person in the employee.
"Our goal: To grow together with the bompany".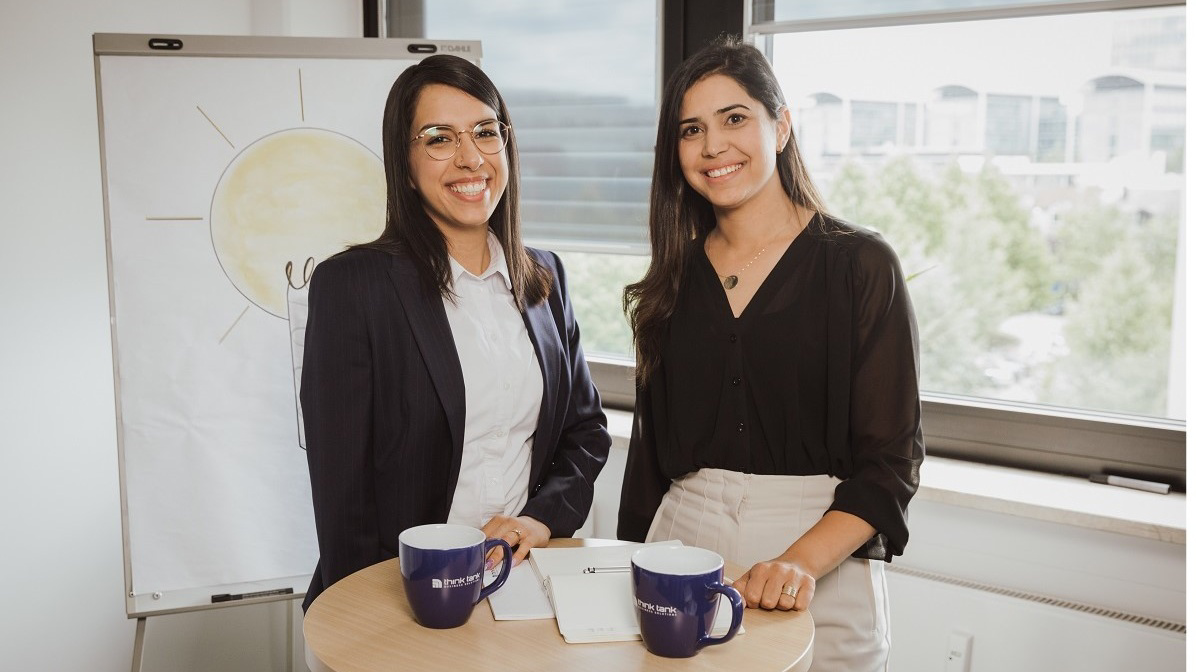 Jihen Koubaa and Sonali Parkash started their professional careers at think tank. In the fourth interview on the occasion of our 20th company anniversary, they talk about their career paths and their experiences of starting a career at tt.
Jihen Koubaa and Sonali Parkash on their career start at tt
think tank is the first "real" employer for both of you. What was it like starting out?
Jihen: I started as a working student in 2012 after studying business administration in Tunisia and attending an eight-month German course.  I started in the media editorial department of a client, but I always had a Master's degree in mind. However, the tasks at think tank were so varied and interesting that I decided to stay. I was able to try out different areas and activities in several projects with a wide range of colleagues, from software testing and project assistance to project management and IT consulting. For me, this is one of the important advantages of a medium-sized company like think tank: you can discover a lot, a special feature at tt is that you are not tied down and can develop further.
Sona: I started during the Corona period directly after my business informatics studies. At the beginning, I was able to enjoy a bit of office time. Since I had done an internship at BMW, I was able to get directly involved in a project. This allowed me to get to know different roles and perspectives right away and thus acquire or expand my broad professional knowledge. In the process, I also discovered completely new passions. During the Corona period, we all worked remotely, of course, but the team still got along very well. When we saw each other in person after more than a year, it was as if we had known each other forever. It was important for me to have a good mentor by my side who was always there for me personally and professionally. What I liked most about tt was that everything is very informal and the colleagues are understanding. Everything can be handled flexibly in coordination with the client, so I also quickly learned to work freely and independently. I was able to try out new things and was also allowed to implement my own ideas.
What is your development path like? How has think tank supported you and helped you along the way?
Sona: In the beginning, I mainly worked on projects. Now I have a clearly structured development path with annual interviews. However, this path is not fixed, it can also be adapted through short official channels if I justify the changes well and, of course, it they are in the interests of the company. Personally, I don't want to commit to one role, I want to remain broadly applicable, which is supported by tt. My primary goal is to continue my training as an agile coach, but I would like to remain operationally active. I am supported on my way by my team leader and my mentor. They are always available for questions, and when it comes to specialist topics, I can turn to the experts from the departments.
Jihen: There is always a tandem partner in the areas you work in that you can always ask. The hierarchies are flat and I have worked in various projects and thus acquired a broad range of expertise. I also always had the chance to further my education in training courses and thus take on more tasks. You always get support from the team leader or, earlier, from the division manager and, of course, from the HR department when it comes to further development. Personal preferences are taken into account.
What makes working at think tank special for you?
Jihen: We can express our opinions and they are taken seriously. We treat each other with respect.  The work-life balance is great, there is always understanding, which is very important for me as a mother with a small child. The possibility to work remotely and to arrange my work flexibly in consultation with clients and colleagues gives me a lot of freedom. I also like the fact that you can develop and implement your own ideas. But that requires a lot of initiative.
Sona: The management always accommodates me when it comes to implementing my preferences. The self-organised work gives me the freedom that is important to me. Many colleagues have become friends. That way I have fun at work and can master everything. We also transfer this to the clients. We form a team with the clients and tackle everything together. We take the client by the hand, if necessary, and accompany him from start to finish and don't leave him out in the cold at any point. It is important, however, that you are also proactive and that you think about and commit to your own development.
You already have experience through internships etc. with other employers. Are there any differences and if so which ones?
Jihen: I have only done internships. At think tank, I have gradually been given more responsibility in line with my individual development. What's important for me is that I got to know the working cultures in Tunisia and Germany. That way I can sometimes build a bridge and get more involved.
Sona: I got to know the difference between a corporation and a small, medium-sized company. The hierarchies are much flatter, of course. There are also fewer employees. That's why I don't feel like a small "cog". At think tank, I have had more responsibility from the start and my decisions have a greater impact than in a company. In return, I also have more influence and must and may actively participate.
What do you particularly like about your work, in terms of content and personally?
Jihen: I like the fact that I can control my work and make many decisions independently, sometimes I just work as a team member and sometimes I take over the project management for our projects. I also like the fact that I now work as a tandem partner or mentor for new colleagues, that I can pass on the knowledge I have gained and that I learn something new myself at the same time. I also experience a lot of appreciation at think tank; we all meet as equals. I appreciate a lot that we are constantly growing, which offers me new opportunities for further development.
Sona: I like that I have such different activities, that I work together in external and internal teams. The mix of operational and organisational / management topics excites me. My expertise is important and noticed and very much appreciated.
If you could wish for something, what would it be?
Jihen: I miss the on-site appointments. It would be nice if we could visit the client maybe once a quarter. It's different to feel the atmosphere at the customer's, it leads to new ideas and more exchange. And that we grow even more, so that I can also grow and take on other tasks.
Sona: I would like the fun to remain in the work. For me, a healthy mix of on-site and remote is important. And I also want to grow with the company.
Kanban vs Scrum? Which method leads to success?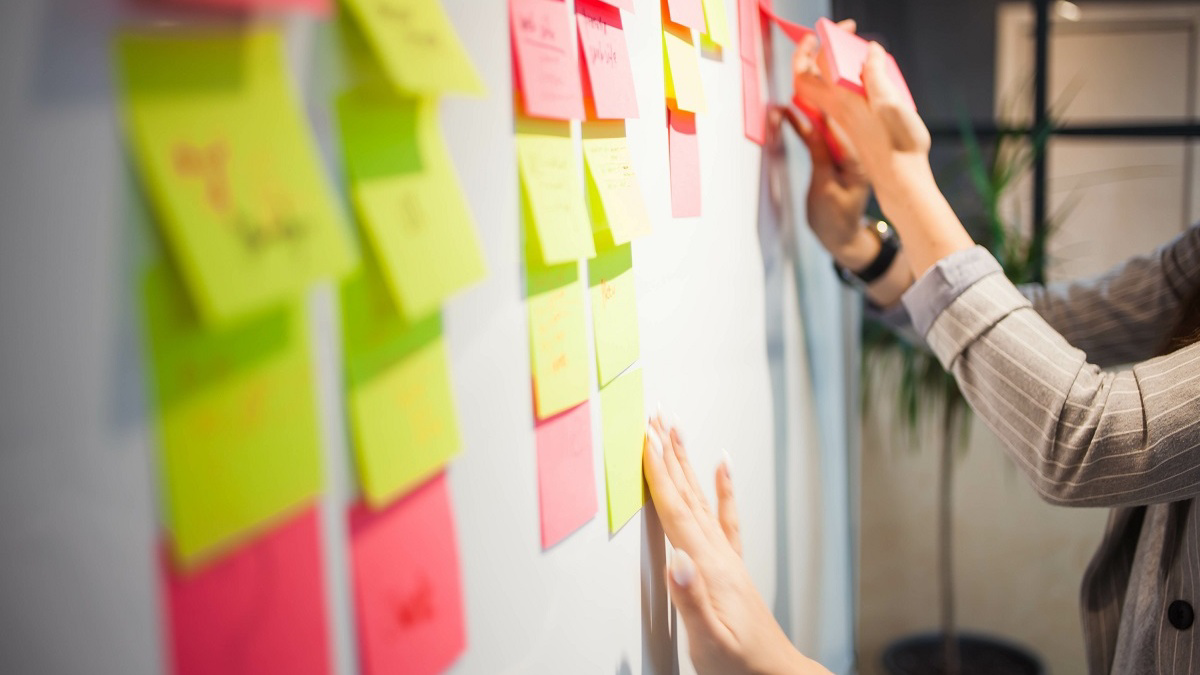 The question of which agile method is suitable for which project is not always easy. We try the comparison Kanban vs Srum.
Advantages and disadvantages of agile working methods
Those who decide to work agilely are spoilt for choice when it comes to methods. Kanban, Scrum or Lean Management are just a few of the keywords that are on everyone's lips. Often, it is Scrum with its precisely timed sprints and user stories that those in charge choose. Whether this decision was the right one sometimes only becomes clear after a long process of trial and error. How can such a mistake be avoided?
Decision criteria for agile development methods
There is no generally valid answer to this, but some criteria can help to make a reorientation in the middle of a work process. The best way to explain this is to use a negative example in the case of a choice between Kanban and Scrum. Because it is also true in agile working that mistakes are the best teachers.
In our case, the client was faced with the challenge of organising a team that worked at different locations and whose participants did not all speak the same language. In other words, the best conditions for agile working. The task was to further develop a product that was in operation. Therefore, the choice of agile method fell on Scrum. With its clearly structured blocks, sprints and firmly outlined requirements described in user stories, this method is very popular in product development.
Adapting the agile approach
In our case, however, exactly what is otherwise an advantage became problematic: the requirements, which were precisely tailored to the team, did fit the mandate to further develop the product. In addition, however, the team had to take over the ongoing operation and support. As a result, critical defects were repeatedly added to the already existing tasks, the processing of which could not wait until the next sprint. The workload of the individual team members increased, as they felt obligated to their commitment to the user stories.
An adjustment of the method became necessary. After careful consideration, the decision was made to implement the task with Kanban. From then on, both the further development and the ongoing operation ran without further problems. But why was the Kanban method better suited than the Scrum method in this case?
It makes sense to look at the fundamental differences in the methodology of the two approaches. On the one hand we have Scrum. Here, precisely specified scopes of work are defined for a certain period of time and the progress is communicated in the daily routine. Here, it is not planned that the requirements change in the course of a sprint or that more are added, which works wonderfully well with a precisely outlined task without "disruptive factors".
The Kanban method, on the other hand, is primarily about establishing a continuous flow of work. For this purpose, the individual work processes from the idea to the completion of the task are made visible in various so-called status columns. The starting point is usually a collection of prioritised pending issues, which are drawn up by the individual team members themselves. The ingenious thing about this is that only a certain number of tasks may be listed under the individual headings of the tables, i.e. it is not possible to start any number of new tasks before others have been completed.
Advantages of the Kanban method
This leads to tasks being completed, but unlike Scrum, it allows new requirements/ideas to be fed into the process. Of course, prioritisation of tasks and monitoring is necessary so that no "task corpses" are left on the way to completion. The product owner is responsible for monitoring the continuous process to ensure that no tasks are left undone.
Another difference is the focus of the dailies. While Scrum focuses on the team members, Kanban is more about organising the tasks and finding solutions to problems that arise.
More flexibility and faster work flow through Kanban
In our case, it became clear that Kanban had to be the method of choice because it fulfilled two requirements that were necessary for the successful implementation in the client's sense: it was possible to feed in newly arising problems and, by focusing on the workflow, it guaranteed that both the activities that could be planned in the longer term and those that were newly added were completed.
What we have learned from this is that it is important from the beginning to examine exactly which factors play a role in the completion of a task in order to find the appropriate method. In keeping with the spirit of agility and the fault tolerance implicit in it, the courage is required to revise and reconsider a decision that has already been made if it becomes clear after the application has been launched that one has made a mistake in the choice of method.
Resilient in times of crisis: Adaptive or rather agile?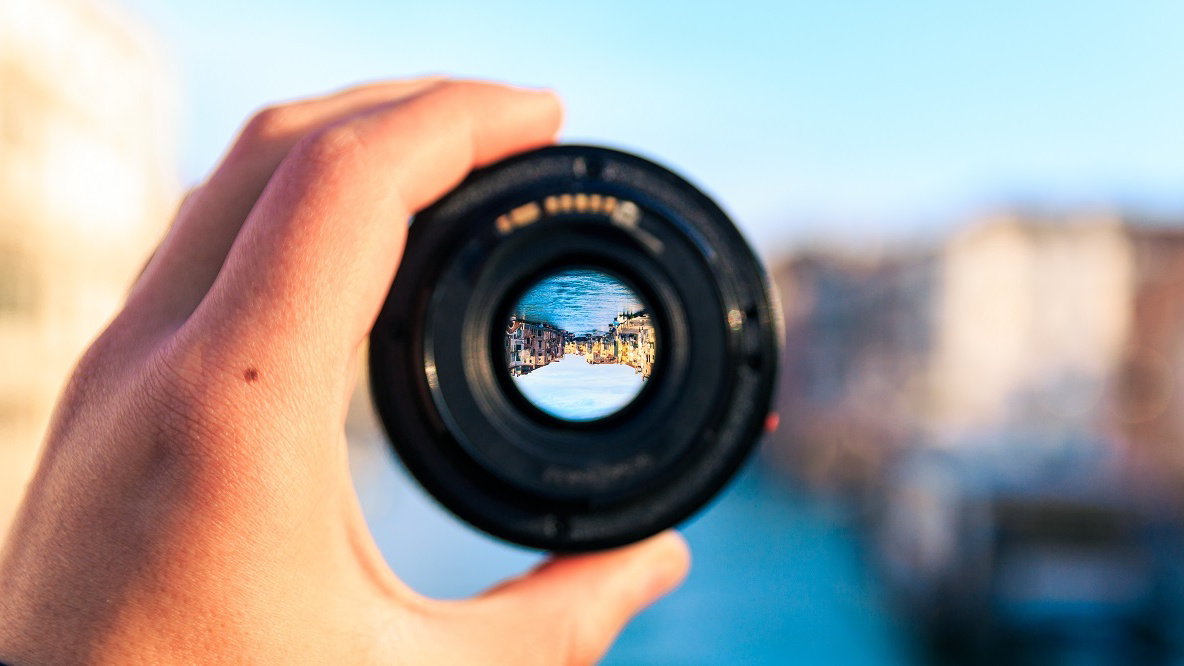 Companies must be able to react ever faster in the face of crises and rapid, disruptive changes. As with people, resilience plays an increasingly important role in this. But how can they achieve it?
How companies can position themselves for the future
 In a world characterised by crises and rapid changes, the concept of resilience is also gaining more and more importance for companies. But what does resilience mean in this context and how can the concept, which originates in psychology, be transferred to it? If you read up on the subject on the internet, two terms quickly come to mind: Adaptability and innovative learning culture.
Taking external factors into account
From these terms, it is not far to the buzzword agility. For a long time, agile working was seen as the magic bullet for making a company so crisis-proof that it could react adequately to the rapid changes so typical of our times and thus remain fit for the future. In the meantime, this way of working has lost its nimbus of being a universal remedy. What remains, however, is the need to adapt quickly to new circumstances in order to be resilient. But how can this best be achieved? This is where the topic of adaptive organisation comes into play. A one-sided perspective from which an agile way of working is introduced usually does not lead to the desired improvement. Instead, in the sense of systemic thinking, all systems, internal complexity as well as external circumstances such as competitors, market changes, wars must be considered and taken into account.
Resilient through a change of perspective
The decisive factor is therefore a change of perspective to the meta-level, i.e. a view from the outside of the company and its influencing factors. From this changed perspective, other possibilities arise and potential for improvement becomes visible. However, it is a fallacy that this potential can only ever be exploited by introducing an agile way of working. It is important to find the right means for your own organisation.  Because just because a method such as design thinking was the perfect solution approach for a topic, this does not mean that this approach will be the means of choice the next time. If we return to the initial question, it can be said that agile and adaptive are not mutually exclusive; rather, agility is a building block for creating an adaptive organisation.
However, the change from a classic or agile to an adaptive organisation can only succeed if it takes into account not only the external but also the human factors such as corporate culture, communication and the employees.
Balance between structure and flexibility
It is important to develop a balance between structures and flexibility. This is the only way to create a protected framework in which new creative spaces can open up and solutions can be found. In this way, a company can change sustainably and, in the spirit of resilience, protect itself against external influences. This process is never complete. Only when an organisation continues to develop is it protected in the long term against the disruptive influences of the outside world.
The conclusion to be drawn from the question of agile or adaptive is therefore that agility is usually part of an adaptive organisation, but its methods alone are not always sufficient; companies must always keep the big picture in mind when making adjustments and changes.
"Compatibility of family and work"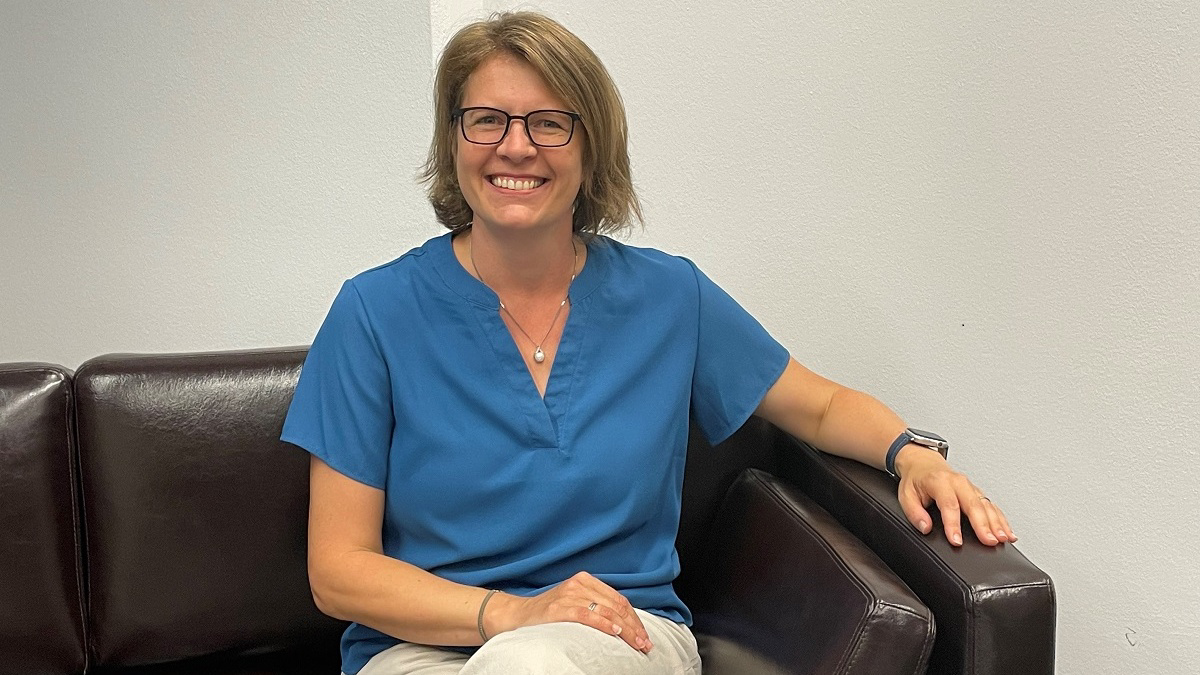 In our series of interviews on the occasion of our 20th anniversary, we are talking today to Cornela Kapl, who has helped shape the development of our company from the very beginning.
Cornelia Kapl, team leader talks about the focus of her work
What are your most important career steps at think tank?
I started in 2003 as a project manager. Later, I was involved in various IT projects on site with clients and managed software development projects in the area of banking software, including testing and support. When we expanded our range of services, I also worked as a security consultant. Since 2006, I have also been a member of the company's supervisory board. One of the most important steps for me personally, however, was the start of my work as a team leader in 2019. Initially, I was responsible for five employees, but now there are 15. The special thing about this job is that I can actively help shape the working environment of the employees and promote the compatibility of family and career. As a mother of two children, this topic is also important to me personally. I really appreciate that at think tank you can develop professionally even if you work part-time.
You've been with the same company for almost 20 years. What is the most exciting thing about your work?
Overall, I've always had very interesting tasks that have changed over time. I particularly value working on and with people. In the beginning, we were a start-up and of course did a lot ourselves internally, for example marketing, accounting, office management. Gradually, we were able to create jobs for the different tasks. When I look back on my career, I see that I have virtually grown with the company and also helped to shape it, which gives me a good feeling. And today, like all the other employees, I can help shape the face of think tank, because a company can only grow through its employees.
What do you see as the milestones in the history of the company?
Professionally, it is certainly the expansion from the core business of software development via IT consulting to information security consulting. The development of our own sales department, which gave us access to two large car manufacturers, was a major milestone. At that time, our third pillar, IT security, was added.
The move from Freystraße to Messerschmittstraße to more representative premises was also important. With this move, we finally left the image of the "small clit" behind us. By gaining a large real estate platform as a partner, we have further expanded our image as a reliable partner. We have built up a relationship of trust as a constant external partner and now work with 4 project owners and 18 developers together on better solutions with the client.
What makes think tank different for you?
We differ from other companies in that we pay a lot of attention to our employees. We take individual needs into consideration, employees can actively contribute. Our board members work on projects themselves, so we don't lead from the top down, but at eye level. Everyone who works at think tank can help shape the company, every opinion is heard. You can contribute right from the start, even as an intern or junior, everyone is equal.
The development from classic to self-organisation in 2018/2019 has further strengthened these processes. We see ourselves as a self-learning organisation in which more competences and responsibilities are assigned to the employees.
We also work agilely internally on many topics, for example, we have introduced OKR as a framework for modern management and thus involve all employees in important strategic topics. The development is far from complete, our organisation is in a state of flux and this year we would like to strengthen self-organisation even further.
How do you see the future for think tank? What is important?
We are currently in the process of focusing and positioning ourselves better, making our portfolio even clearer for our clients. Our great strength is that we are very reliable and flexible. Once we have won over a client, this often develops into a long-term partnership. In addition, we know our clients' pains and can react flexibly to them. We have succeeded in making our working methods hybrid. Our employees can work flexibly from home as well as in the office. We make up for the lack of office communication with daily joint meetings in the morning and virtual coffee chats and other joint appointments.
What are your personal goals for the next few years?
For me, the compatibility of family and career and the creation of an optimal work-life balance remains a topic close to my heart. Many of our employees work part-time without any disadvantages or being put on the sidelines, which is often the case at other companies. In addition, I would like to further my own education in order to be able to master the challenges of digital work in the future.