Our Software Design helps you to create IT solutions,
that set you apart from your Competition
Individual software offers many advantages in contrast to already existing solutions, because they are precisely tailored to your needs and fit seamlessly into your IT infrastructure. Especially for special processes related to your core business, such as production processes, plant planning, 360-degree solutions and e-government applications, the requirements are very specific and can often only be implemented with an individual solution.
Through our many years of experience, we have meanwhile developed a basic structure for individual solutions for individual sectors, which can be adapted to your needs or set up completely from scratch. With our colleagues in Tunis as nearshoring partners and our experience in project controlling for individual software solutions, we also have the issue of costs under control.
In order to be able to develop the best solution for our customers, we first obtain an overview of the existing processes and procedures and talk to the stakeholders involved. This gives us a precise understanding of the needs and goals of all those involved.
02

Requirement Analysis / Engineering
In the requirements analysis we clarify the desired features of the solution as well as the needs of the users and customers. In qualitative interviews we determine the needs and thus guarantee that all parties involved are on board from the beginning in order to minimise resistance to changes.
During initial planning, we determine the various milestones on the way to the desired solution. In doing so, we check which features must be included in a first version, an MVP. Since it is difficult to take all framework conditions into account right from the start, the planning is determined step by step according to the principles of agile software development and adapted to your needs.
We use agile methods to implement your requirements from conceptual design to prototyping. Implementation takes place according to agile principles in iterations, where your feedback is taken into account when planning the next cycle. Each iteration includes the components planning, implementation of new functions, testing for quality assurance and acceptance.
If possible, we release and roll out a functional version of the software after each iteration. The project thus goes through several releases. After each release, there is the possibility of adding new functions, so that the software is improved step by step until it fully meets your expectations. In this way, the users of your application also benefit very quickly from the implemented features.
With our know-how in information security, we implement control mechanisms in the agile software development process, with which you can be sure that the finished solution meets legal and internal compliance regulations.
Through training, we prepare the power users and users for working with the new solution and also support them with questions and problems.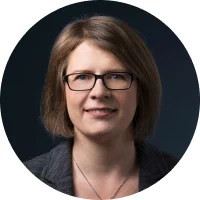 "We have already been able to inspire many of our customers with our customised software solutions."
Cornela Kapl

Teamlead und Project Coordination